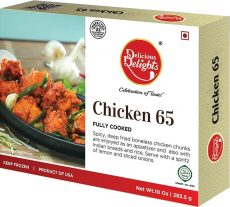 Delicious Delights Chicken 65 (Frozen)
Delicious Delights Chicken 65 is the genuine article as the ingredients are the best, processed at modern, hygienic kitchens! Serve with Onion and Lemon! Spicy and deep-fried, Chicken 65 is a great quick snack, with the flavor derived from best-quality Red Chillies. It is a perennial favorite across India.
Made In USA: This product is prepared & packaged by Delight Foods USA in New Jersey.

Checking local availability