Two Ways To Shop
Ships to your doorstep or local store pickup
Shop our online store and fill up your grocery bag. When you're ready to checkout, you may create an account for a seamless checkout process on future orders.
We ship non-perishable items anywhere in the United States and frozen items to 24 states + DC. Shipping times may vary. Provide tracking number when an order has been shipped.
The fastest way to shop is through easy and contactless curbside pickup at our fulfillment store. You can expect your order to be ready the next day.
SPECIALTY BRANDS
Daily Delight & Delicious Delights
We have large collection of Daily Delight & Delicious Delights products!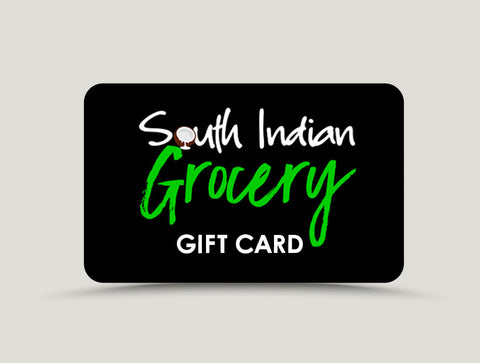 NO EXPIRATION DATE
Perfect Gift for Anyone
Not sure what to get someone special? Celebrate any occasions with a gift card from South Indian Grocery!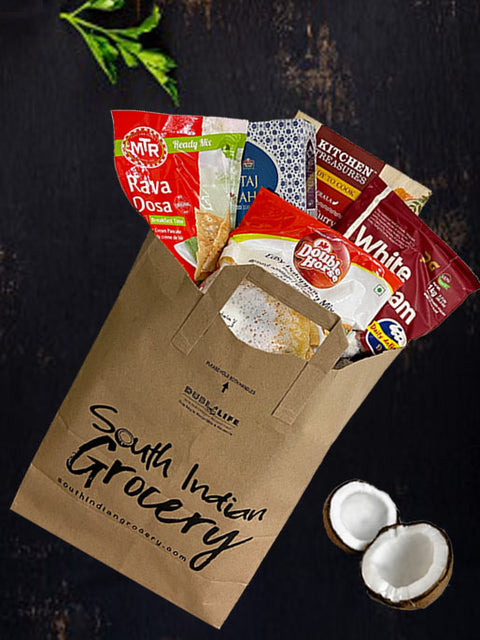 SATISFACTION GUARANTEED
Our Products
South Indian Grocery is proud to bring our customers a wide selection of over 1,000 products. We carry everything from your everyday popular brands to rare favorites.
Let us do the heavy lifting. Shop online now, and we'll deliver your groceries straight to your doorstep.
Take A Quick Tour Of Our Fulfillment Store!
About our fulfillment processes
South Indian Grocery will notify you about your order at every step of the way from when you place your order to when it's delivered.
If your order needs shipping then once it's fulfilled and shipped, you'll get an email notification with tracking number so you can easily check the status while it's in transit and you know exactly when it'll be arriving.
For local delivery order, we'll schedule your local delivery and notify via text you to confirm it. You'll get an email notification when your order is out for delivery as well as when it's delivered.
For curbside pickup order, we'll send an email notification when your order is ready for pickup with instruction.
Testimonials
Here's what our customers think about South Indian Grocery! Love SIG? Leave a review.
"Excellent service and the products are of very high quality. Shipping and handling of products are done carefully and reach to the customer on time. Almost all products are available in reasonable price. I am 100% satisfied."
Vandana G. (New York)
★★★★★
"I love there fastest delivery, they have so many brands and products available for selection. Prices are also very affordable. I got all products are very fresh and promising. Their packaging is also awesome. I highly recommend this for your desi groceries."
Overall we are very impressed with prompt customer support, super-fast delivery and the exceptional packaging. The ice-cold packs and fish were still frozen solid. Don't believe this came all the way from Maryland to New Jersey in less than 24 hours. Thanks again for excellent service.
Sebastian C. (Maryland)
★★★★★
I am very impressed with the South Indian Grocery purchase. The quality of all items were very good and prices are reasonable and competitive. Items were delivered in a timely manner. When we ordered plantains we were not sure how that will work out. But the quality of plantains were excellent, better than normally we get from Costco. We will definitely going to buy again.
Was so happy to find this online grocery store which has very good products with reasonable pricing and timely discounts. They have the best online customer service who contacts in person if the ordered item is out of stock or if u need a replacemt of item.
Resmi K. (Washington, DC)
★★★★★
Very professional & Great service. Finally found a great place to shop for Indian groceries. Making the online order was very easy. The free delivery they offer is a bonus especially during this time. From making online order to delivering the grocery items promptly was all done very professionally. Thanks very much for all your efforts.
About us
We're South Indian Grocery, an online grocery store. Where you can shop safe, shop smart, and shop anytime so you can save time for what matters most.