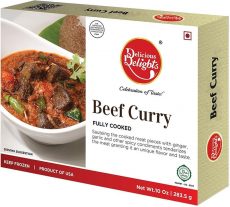 Delicious Delights Beef Curry (Frozen)
Beef Curry from Delicious Delights is uniquely flavored and created to titillate your taste buds! Try a pack today! cooked pieces of Beef with Ginger, Garlic, and other Spices make for tender, delicious Beef Curry with a unique flavor and taste.
Made In USA: This product is prepared & packaged by Delight Foods USA in New Jersey.

Weight: 10 oz
Checking local availability