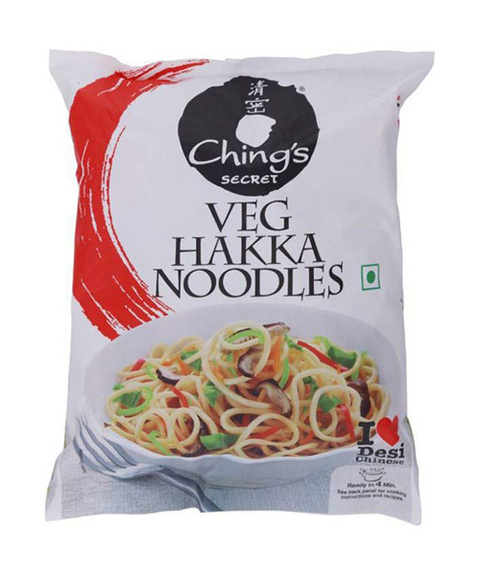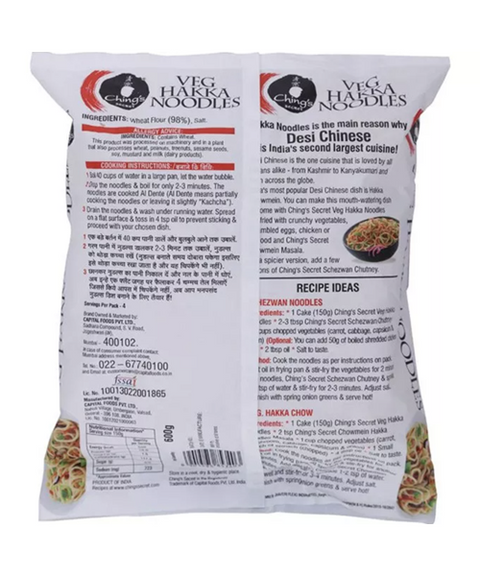 Ching's Secret Veg Hakka Noodles (600 g)
Weight: 600 g
Ching's Hakka Noodles are perfect to satiate those desi chowmein cravings at home, enabling you to whip up a yummy platter of veg noodles in a jiffy.
The Veg Hakka Noodles by Ching's Secret are prepared hygienically, using advanced technology, so that each strand maintains its form without getting mushy after being cooked. The easy to cook noodles are 100% vegetarian with the perfect texture after cooking that retains more flavor on the surface to send your taste buds in overdrive.
Make mouth-watering Hakka noodles at home with Ching's Secret Veg Hakka Noodles stir-fried with your favorite veggies and sprinkled with Ching's Chowmein Hakka Noodle Masala for the extra punch. (Desi Chinese / Indo-Chinese)
Boil an appropriate quantity of water as mentioned on the pack

Drop Ching's Hakka Noodles into the pan and boil for 2-3 minutes. Avoid overcooking, as Hakka Noodles are cooked al-dente, or left slightly raw (cooked partially).

Drain the water and place the noodles under running water. You can add a teaspoon of oil to prevent sticking.

You are ready to make the best noodles at home! Toss in the boiled Hakka Noodles with the toppings of your choice, season with Ching's Secret Hakka Noodle Masala, and enjoy street-style desi Chinese in the comfort of your home.
KEY FEATURES
Fully vegetarian noodles

Easy-to-cook

Non-sticky, best-quality noodles

Add stir-fry vegetables, scrambled eggs, or meat for extra flavor
Checking local availability